Obituary of Fiore (Rocky) Salvatore DeLapa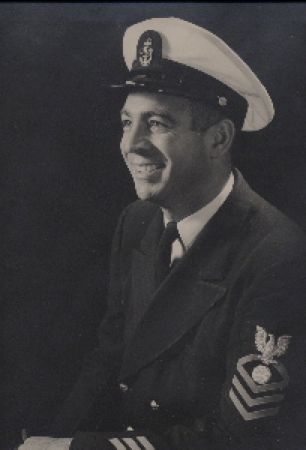 February 18, 1915 – May 27, 2004
Fiore (Rocky) Salvatore DeLapa died May 27, 2004 at his home in Santa Barbara, California of natural causes associated with 89 years of exuberant and joyful living. DeLapa was born in Springfield, Massachusetts on February 18, 1915 to Dominic DeLapa, a chauffeur, and Rose Cozzella DeLapa, a homemaker. The eldest son in a family of twelve, Rocky assumed significant financial responsibilities for his family's support at an early age. At age twelve, he would awaken at 4:00 am to service the largest paper route in Springfield. In 1936, Rocky enlisted in the U.S. Navy. He was a Pearl Harbor survivor and subsequently fought in various naval engagements during World War II, including the battle of Guadalcanal and others in the Pacific theater. In 1955 he married Josephine Kloeber of Teaneck, New Jersey and in 1956 after 20 years of active service retired from the U.S. Navy with the rank of Chief Petty Officer. From 1960 to 1970, Rocky worked at the National Institute of Health in Bethesda, Maryland as an electrical contracting representative for the U.S. government. His wife Josephine died in 1969, and in 1971 Rocky retired to Santa Barbara, California where he gained notoriety as an expert Dixieland dancer, productive deep-sea fisherman, skillful billiard player, and fanciful cook and entertainer. Of all his accomplishments, Rocky remained proudest of his son, Michael, who he supported and saw through Stanford University and the Stanford Graduate School of Business. Rocky is survived by his son Michael, daughter-in-law Rebecca Shaw, grandson Charles Dominic, sister Rose and Red Hibbert, brothers Frank, Charlie, and Tony DeLapa, Vivian DeLapa, Susan DeLapa and her husband Barney Brantingham, nephews Pete and Paul DeLapa and other family and friends too numerous to mention. In keeping with Rocky's wish that "life was meant to be lived not mourned" there will be no funeral services. In lieu of flowers, memorial contributions may be made to Hopkins Marine Station of Stanford University, ATTN: Judy Thompson, Oceanview Blvd, Pacific Grove  CA 93950 in tribute to Rocky's love of the ocean and gratitude to the institution that educated his son.
May 27, 2004 — What This Is About
My father has died, which is both a sad and a good thing.
Sad because he was, for me, the most generous, kind, gracious, thoughtful and joyful person I've known. After my mother died when I was 13, Rocky became a single parent. He raised me — in the true sense of the word, brought me higher — guided me through difficult teenage years, supported me through college, traveled with me around the world, hosted countless meals for me and my friends, shared my joy in becoming a husband and father, and taught me to love life and family and friends above all else.
Good because his time had come. His last six years, following his stroke, were difficult. As his capacities declined, his dependence on others grew, and the things that brought him such joy in life were harder for him to find. He was clear that what he wanted most was to die comfortably and privately at home, which he was able to do because of the extraordinary support and love of his friends and family.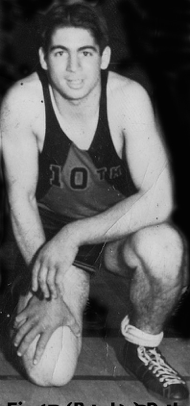 There are so many people to thank for helping to make the last few years of my father's life comfortable, safe, and dignified: Ed and Margaret Loper, Luci Luciano, Stella Nevarez, Naomi Parry, Bob Poulin, Agris Petersons, John and Alison Katnic, Aunt Rose, Uncle Frank, Steve Lough, Elene Vaughn, Ann Burns, the wonderful team at Senior Planning Services, Visiting Nurse and Hospice Care of Santa Barbara, Rocky's neighbors, other friends and family, and, of course, Becky and Charlie — Becky most of all for her support in encouraging me to spend as much time as I needed, whenever I needed, with my dad.
As I've grown fond of saying, Rocky got his money's worth out of life. It was an unbelievable American journey: the eldest son of ten siblings in an impoverished immigrant Italian family, a survivor of Pearl Harbor and Guadalcanal, a courier during the Berlin airlift, an avid late night dancer and early morning fisherman, to mention a few of his experiences from 1915 to date. I reflect on the past 48 years of our relationship and try hard not to imagine what it's going to be like without him. Having my own son makes it both harder and easier — harder because I now have an inkling of how much my father loved me and easier because Charlie's unbridled joy and laughter helps keep everything, including death, in perspective.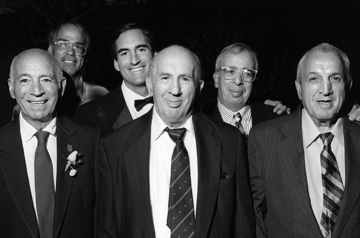 My father will be buried next to my mother, Josephine, at Arlington National Cemetery. In keeping with his wishes, there won't be a funeral; rather in a few weeks (or so) I'll be organizing a celebration of his life.
My dad has left me with more grand memories than seems fair, two of which I'd like to share. One was his habit of waking up with a smile and silly comment every morning, no matter the circumstance. I saw it as his way of worshipping the great possibilities that the day might bring. The other was his uncanny sense of gratitude. I say uncanny because he never failed to acknowledge even the smallest acts of kindness, to be aware that relationships with others — the greatest gift of life — should never be taken for granted. One of my last memories of my father is him laying in his bed, unable to swallow, barely able to breath, but able to somehow tell me "thank you" for being by his side. Such simple things. I can't tell you how much I already miss them, and him.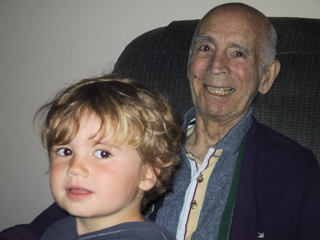 _________________________________
Funeral Blues
By W. H. Auden
Stop all the clocks, cut off the telephone,
Prevent the dog from barking with a juicy bone,
Silence the pianos and with muffled drum
Bring out the coffin, let the mourners come.
Let aeroplanes circle moaning overhead
Scribbling on the sky the message He Is Dead.
Put crepe bows round the white necks of public doves,
Let the traffic policemen wear black cotton gloves.
He was my North, my South, my East and West.
My working week and my Sunday rest,
My noon, my midnight, my talk, my song;
I thought that love would last forever; I was wrong.
The stars are not wanted now: put out every one;
Pack up the moon and dismantle the sun;
Pour away the ocean and sweep up the wood;
For nothing now can ever come to any good.
_________________________________
Nothing, Nowhere, Not Here
By Michael DeLapa
I want to feel nothing:
No cold in the absence of heat
No light in the absence of darkness
No dreams in the absence of sleep
I want to be nowhere
Not here nor there,
Not present nor past
Nor places and times in between
Which is to say:
I don't want to be here.
I don't want to think about it.
I don't want to remember
Consider, concern, or cry
There's nothing really to be said,
Written, conveyed, recalled.
Nothing that will change the nothing
The nowhere, the not here
_________________________________
"Endless Night" (from The Lion King)
By Julie Taymor
Where has the starlight gone?
Dark is the day
How can I find my way home?
Home is an empty dream
Lost to the night
Father, I feel so alone
You promised you'd be there
Whenever I needed you
Whenever I call your name
You're not anywhere
I'm trying to hold on
Just waiting to hear your voice
One word, just a word will do
To end this nightmare
When will the dawning break
Oh endless night
Sleepless I dream of the day
When you were by my side
Guiding my path
Father, I can't find the way
You promised you'd be there
Whenever I needed you
Whenever I call your name
You're not anywhere
I'm trying to hold on
Just waiting to hear your voice
One word, just a word will do
To end this nightmare
I know that the night must end
And that the sun will rise
And that the sun will rise
I know that the clouds must clear
And that the sun will shine
And that the sun will shine
I know that the night must end
And that the sun will rise
And that the sun will rise
I know that the clouds must clear
And that the sun will shine
And that the sun will shine
I know
Yes, I know
The sun will rise
Yes, I know
I know
The clouds must clear
I know that the night must end
I know that the sun will rise
And I'll hear your voice deep inside
I know that the night must end
And that the clouds must clear
The sun
The sun will rise
The sun
The sun will rise